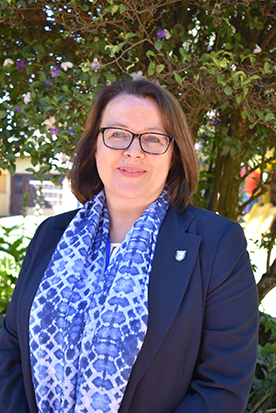 Frances Morton – Head of Secondary
Academic Programmes
I would like to offer you a warm welcome to Colegio Gran Bretaña's safe, familiar, inclusive and relatively small Secondary Section.
We are comprised of:
Key Stage 3 (Years 7 – 9)
Key Stage 4 (Years 10 – 11)
Key Stage 5/Post-16 (Years 12 – 13)
Key Stage 5/Post-16 is equivalent to the last two years of school before university.
I am very excited that as of August 2015 we are launching the International Middle Years Curriculum in our Secondary Section.  This new curriculum follows on from what is taught in the IPC in the Primary Section.
The subjects that are taught in Key Stage 3 are: English, Spanish, Mathematics, General Science, History, Geography, Information Technology, Sociales or Cultura Colombiana, Art, Music, Physical Education and PSHE(Personal, Social and Health Education).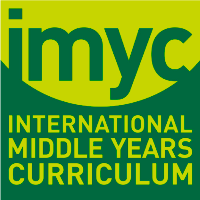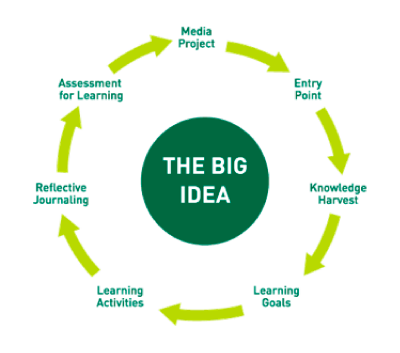 What is wonderful about this program of study is not so much what is taught but how it is taught. It is based on constructivist theory and allows our young learners to make many connections in their learning. Learning in each year group in Key Stage 3 is divided into three distinct units, with each unit having a Big Idea that nearly all subjects follow. (Art, French, Maths and Sociales will dip in and out of the Big Idea making connections where possible). The other subjects will follow it throughout the term using the model below.
For more information, please click here. Matthew Lawrence is CGB's IMYC Coordinator, and would be more than happy to answer any questions you may have about this exciting programme of study.
When students from our Secondary Section progress from Key Stage 3 to Key Stage 4, they begin the International General Certificate of Secondary Education (IGCSE) curriculum from the University of Cambridge, England.
The core subjects that CGB offers at IGCSE level are First Language English Language and Literature, First Language Spanish or Spanish as a Second Language, Mathematics, History, Geography, Biology, Chemistry, and Physics. Students also choose to take an elective subject such as French, Computer Science, Visual Arts or Global Perspectives. Based on our students' option selection, we will then try to cater to the needs of as many students as possible. All students will present the locally required subjects of Music, Physical Education and PSHE. Colombian students are required to follow the National Social Science programme, known as Sociales. All students will sit the IGCSE exams in English, Maths and one of the three sciences. Many students will also present the IGCSE exam in Spanish as a first language.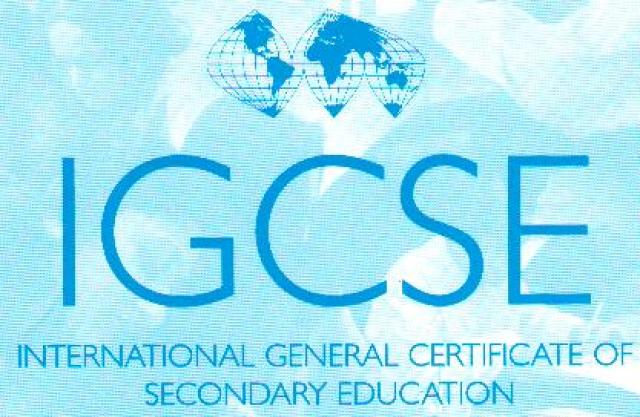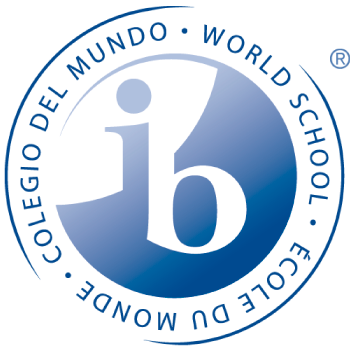 The IB Diploma is not awarded unless the Theory of Knowledge course is followed, an Extended Essay is written and the CAS (Creativity, Action, Service) programme has been completed. In addition to the subjects offered within the IB Diploma Programme, Year 12 and Year 13 students from our Secondary Section will study a Performing Art (Music, Dance or Drama), Physical Education, and PSHE. For more information about the International Baccalaureate Diploma Programme, please click here.
Students are also required by Colombian law to present the Prueba Saber 11/ICFES exams. Support is offered to them throughout Years 12 and 13 in readiness for this national exam.
The outgoing IB DP Coordinator (Joanna Dench) and the incoming IB DP Coordinator (Mónica Woodward) will be more than happy to answer any specific questions you may have about this prestigious Diploma Programme.
Since 2008 CGB has been offering the world-renowned International Baccalaureate Diploma Programme in Years 12 and 13.
Participation in the IBDP is compulsory at CGB and the school policy is that all students in these last two years of study will fulfil the requirements for the full Diploma and may not opt for individual certificates.
Students must choose one subject from each of the six groups (see diagram). Three must be at Higher Level (HL) and three must be at Standard Level (SL).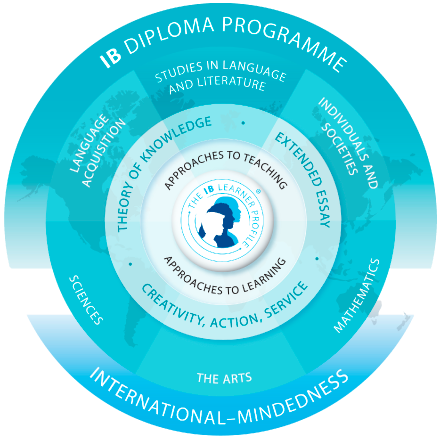 Our staff reflect an impressive international dimension, and we recruit highly qualified, mother tongue English speakers from all over the English speaking world, including Australia, Canada, GreatBritain, Ireland, SouthAfrica, and the United States.
Those who teach in Spanish are all highly qualified native Spanish speakers from all over Latin America.
The relationships that grow between our teachers and young learners are professional, friendly, supportive and nurturing, both academically and personally.
Additional Learning Opportunities
We have built our entire school on the Foundation Blocks.  For more up-to-date information on what is happening in these fundamental areas, please click on the link at the top of the home page, or click here.
In the Secondary Section, every child is a valued member of our CGB community. The teaching and support staff are committed to creating a happy, healthy and safe environment that fosters life-long learning, values and creativity, and allows each student to explore his/her individual potential. To this end, the CGB Secondary Section offers a truly personalised education through student-centred learning.
CGB is an inclusive school and as such students benefit from learning along side others while celebrating and embracing our unique diversity. Differentiation in teaching methodologies and assessment strategies allows our students to benefit from a range of learning styles that caters to their interests and specific needs.
The fact we have the Primary school on the same campus also means that CGB students learn to develop and foster their caring nature with the younger learners.
Students with Special Educational Needs are assisted by a highly-qualified team of teachers led by our experienced Head of the Educational Achievement Department (EAD). Please click here for more information.
Our students are all internationally minded and those who speak either English or Spanish as an additional language are offered in-school instruction from our Additional Language Department in order to facilitate their language development. Click here for more information.
Our team of expert psychologists are onsite five days a week to ensure that the emotional needs of all of our young learners are able to be met. Please click here for more information.
Should you have any queries about anything that takes place in our school, please do contact me.
CGB Secondary School is a very special place where learning is encouraged, bullying is not tolerated, and students flourish.
I very much look forward to meeting you in person.
Ms. Frances Morton
Head of Secondary
SECONDARY CURRICULUM PROGRAMMES